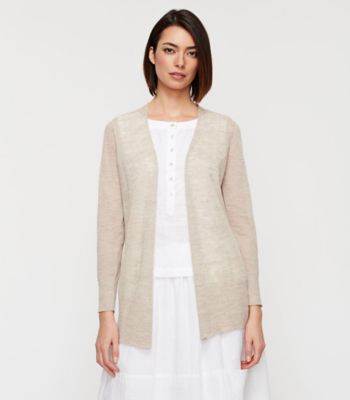 Eileen Fisher has shops throughout the US (click Store locator)). Her high quality, easy-care sweaters and tops look good on all body types and all ages. Forget that the models are always young and cool-looking. 60 and 70-year-olds, especially larger women, love the sweaters (some come in brighter colors). The proportions are "generous." "Small" can easily translate to EF's "PS" or "PM ." Because it may be harder to get the size right, if mom doesn't already wear Eileen Fisher clothes, don't buy on-line.
While styles are "today"--possibly surprising--many are perfect for older women. I'm guessing (based on one pair of slacks that I've worn for a decade) all of her knit slacks have elastic waist bands and fit well on skinny or overweight women. Paired with a loose top and loosely fit cardigan sweater, muffin tops--as well as flabby arms--vanish.


Try to find them on sale at......